N-net Fast Ethernet melalui Coax Network
Teknologi ini dapat memanfaatkan sepenuhnya sumber daya kabel koaksial yang ada di jaringan TV kabel untuk memecahkan masalah akses 100 m terakhir.
NT-EP1100 Ethernet over Coax converter adalah perangkat baru e untuk Ethernet over coax menampilkan konektivitas coax to UTP.
Menurut berbagai teknologi konversi media, teknologi EOC dibagi menjadi teknologi EOC aktif dan teknologi EOC pasif.
Adaptor coax to Ethernet ini mendukung transmisi 1 Ethernet IP channel melalui coax hingga 500m. Tingkat komunikasi jaringan TCP-nya dapat mencapai maks. Dalam proyek praktis, perangkat coax To Ethernet terbukti memiliki kinerja tinggi dalam pencegahan guntur dan anti-gangguan. Dan ini banyak digunakan dalam pengawasan IP dan koneksi kamera IP / Megapixel ke infrastruktur kabel Coax yang ada.

Fitur Ethernet Over Coax Adapter
Tingkatkan sistem CCTV warisan apa pun tanpa biaya pemasangan kembali kabel, gunakan coax yang ada untuk transmisi video IP, tukar-menukar kamera analog untuk model IP / Megapixel.

Mendukung 10/100 Base-T Ethernet untuk ditransmisikan melalui kabel koaksial.

Satu pemancar di ujung jarak jauh dapat mendukung POE + (30W) ke kamera IP.

Hingga 14 penerima di perumahan pusat dapat dipasang di rak ke sasis 2U (NT-R14), yang menghubungkan hingga 14 kamera.

LED Status menunjukkan daya, konektivitas tautan / aktivitas untuk port RJ45 dan BNC.

Desain sub-industri, kisaran suhu kerja -20 ~ 70 ℃.

Performa tinggi dalam pencegahan guntur dan anti kemacetan.

Q9 konektor video BNC biasa (terminal crimp opsional).

Hingga 500m lebih dari RG59, 350m lebih dari SYV75-3 (64).
Aplikasi Konverter Ethernet Dan Power Over Coax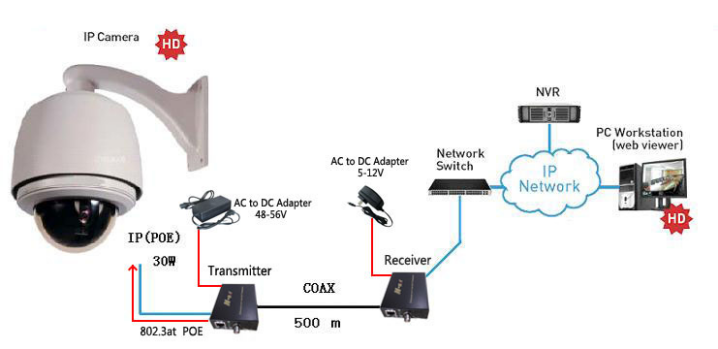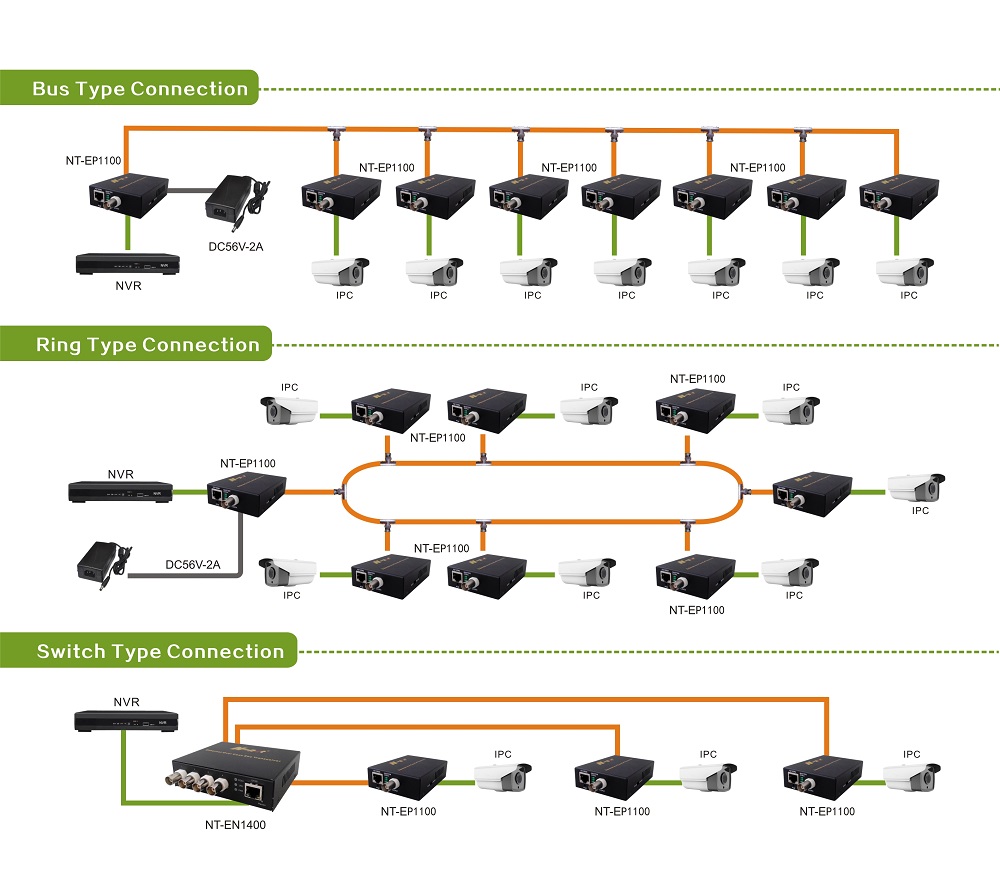 POE atas Info Pesanan Extender Koaksial
| | |
| --- | --- |
| Model | Description |
| NT-EP1100 | Receiver, without POE function, 1 channel 10/100Mbps IP Ethernet transmission over Coax up to 500m, one coax port to one Ethernet port, input AC110-220V, output DC 5-12V |
| NT-EP1100-at | Transmitter, with POE+(30W) to power the IP camera, 1 channel 10/100Mbps IP Ethernet transmission over Coax up to 500m, one coax port to one Ethernet port, input AC110-220V, output DC 48-56V |
Kategori Produk : Ethernet Over Coax Converter > Ethernet dan Power Over Coax Converter