N-net 10 / 100M Pengonversi Media Serat Internal
Dengan perkembangan teknologi yang berkelanjutan, telah menjadi tren saat ini untuk menggantikan teknologi paralel I / O tradisional dengan teknologi VO serial berkecepatan tinggi. NT-S1100D Media Converter adalah produk baru yang digunakan untuk transmisi optik melalui Ethernet berkecepatan tinggi. Fibre Konverter mampu beralih antara twisted pair dan optik dan relay di 10/100 Base-TX dan 100 Base-Fx segmen jaringan, memenuhi kebutuhan pengguna kelompok kerja jarak jauh, berkecepatan tinggi dan broadband cepat, kebutuhan pengguna, mencapai tinggi -Konkoneksi jarak jauh berkecepatan hingga jaringan data komputer bebas relay hingga 120 km. Kecepatan antarmuka bus paralel tercepat adalah 133 MB / s untuk ATA7. Pada tahun 2003, laju transmisi yang disediakan oleh spesifikasi SATA1.0 telah mencapai 150 MB / s, dan kecepatan teoritis SATA3.0 telah mencapai 600 MB / s. Ketika perangkat bekerja pada kecepatan tinggi, bus paralel rentan terhadap gangguan dan crosstalk, yang membuat kabel cukup rumit. Penggunaan transceiver serial dapat menyederhanakan desain tata letak dan mengurangi jumlah konektor. Dengan kinerja yang stabil dan dapat diandalkan, desain sesuai dengan standar Ethernet dan proteksi petir, Fiber To Ethernet Media Converter terutama berlaku untuk berbagai bidang yang membutuhkan berbagai jaringan data broadband dan transmisi data keandalan tinggi atau jaringan transfer data IP khusus, seperti telekomunikasi, televisi kabel, kereta api, militer, keuangan dan surat berharga, bea cukai, penerbangan sipil, pengiriman, listrik, pemeliharaan air dan ladang minyak dll, dan 10 / 100M Media Converter adalah jenis fasilitas ideal untuk membangun jaringan kampus broadband.
Fitur Konverter Ethernet
10 / 100Mbps otomatis merasakan, memfasilitasi peningkatan jaringan.

Built-in switching core yang efisien untuk mengimplementasikan kontrol aliran dan mengurangi paket siaran.

Full-duplex dan half-duplex otomatis.

Mendukung auto-sense MDI / MDI-X, memfasilitasi commissioning dan instalasi sistem.

Mendukung setengah / dupleks penuh FX.

Mendukung transmisi cut-through store / and maju dan 100Mbps 10 / 100Mbps.

Mendukung transmisi 100Base-Fx atau STM-1, yang kompatibel dengan perangkat lain.

Mendukung transmisi jeda waktu rendah.

Mendukung pengiriman paket ekstra panjang hingga 1600 byte.

Konsumsi daya yang sangat rendah (kurang dari 2W), kinerja yang andal dan stabil.

Opsi dalam mode tunggal serat ganda atau serat ganda multi-mode.
Spesifikasi Konverter Media Serat Kecil
Parameter

Specifications

Access mode

10/100Mbps

Standard

IEEE802.3 10Base-T Ethernet, IEEE802.3u,100Base-TX/FX Fast Ethernet, IEEE802.3x Flow Control

Wavelength

850nm/1310nm/1550nm

Transmission distance

Dual-fiber multi-mode: 2 km;

Dual-fiber single mode: 20/40/60/80/100/120 km;

Category-5 twisted pairs: 100m

Port

One RJ45 port:

Connecting STP/UTP category-5 twisted pairs, EIA568A/B

One optical port:

Multi-mode Dual-fiber: SC or ST (50, 62.5/125μm)

Single mode Dual-fiber: SC or FC (9/125μm)

Conversion means

Store and Forward mode or Cut-Through mode

Buffer space

Built in 128Kb RAM for data buffer

Flow control

Full duplex: flow control;

Half duplex: back pressure

BER

<19-9

MTBF

100,000 hours

LED indicator

POER (power supply), FX LINK/ACT (optical link action)

FDX (full duplex), TX LINK/ACT (TP cable link/action)

TX 100 (TP cable rate 100M), FX100(fiber cable rate 100M)

Power supply

Internal: AC90~264V/DC100~380V input

Power consumption

<40W (the chassis at full load), <2W

Operating temperature

-10~55ºC

Operating humidity

5%~90%

Maintaining temperature

-40~70ºC

Maintaining humidity

5% ~ 90% non-condensing

Dimensions

140 mm (W)×110 mm (D)×30 mm (H) (internal power supply)
Aplikasi Pengonversi Media Cepat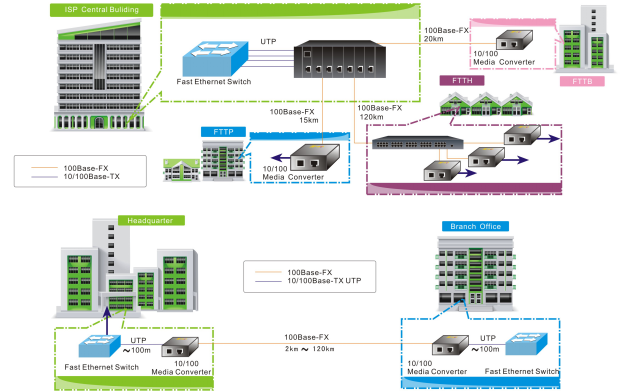 Informasi Pemesanan Fiber To Ethernet Converter
| | |
| --- | --- |
| NT-1100D | 10/100Base-T to 100Base-F, multi-mode, 2km, SC, standalone, internal power adaptor |
| NT-1100SD-25 | 10/100Base-T to 100Base-F, single mode, 25km, SC, standalone, internal power adaptor |
| NT-1100SD-40 | 10/100Base-T to 100Base-F, single mode, 40km, SC, standalone, internal power adaptor |
| NT-1100SD-60 | 10/100Base-T to 100Base-F, single mode, 60km, SC, standalone, internal power adaptor |
| NT-1100SD-80 | 10/100Base-T to 100Base-F, single mode, 80km, SC, standalone, internal power adaptor |
| NT-1100SD-100 | 10/100Base-T to 100Base-F, single mode, 100km, SC, standalone, internal power adaptor |
| NT-S1100D-120 | 10/100Base-T to 100Base-F, single mode, 120km, SC, standalone, internal power adaptor |
Kategori Produk : Media Converter > Fast Media Converter