Deskripsi:
NT-EPU801 (SFU) adalah perangkat terminal GEPON ONU mini, yang berlaku untuk akses broadband murni. Ini mengadopsi desain struktur kompak tipe mini dengan integrasi tinggi dan dapat menyediakan 1 antarmuka GE (RJ45). Mendukung teknologi fungsi router layer 3 dengan PPPOE / DHCP / IP Statis, dan mudah untuk pemeliharaan dan pengelolaannya. Dapat diterapkan pada aplikasi akses FTTH / FTTP untuk pengguna bisnis dan penduduk. Dan sepenuhnya sesuai dengan peraturan teknis seperti IEEE802.3ah dan persyaratan teknis Peralatan EPON (V3.1).
GPON (Gigabit Passive Optical Network) Ini adalah pengembangan dari standar BPON. GPON mendukung tarif yang lebih tinggi, keamanan yang ditingkatkan dan protokol layer 2 opsional (ATM, GEM, Ethernet). Pada pertengahan 2008, Fryson Telecom telah menginstal 800.000 saluran. British Telecom (British Telecom) dan American Telephone and Telegraph Company (AT&T) sedang melakukan uji coba lanjutan. Perusahaan lain seperti Independent Fiber Networks Ltd. bekerja dengan penyedia layanan seperti See the Light untuk menyediakan koneksi GPON dan serat berkecepatan tinggi ke rumah.

Fitur:
Pasang dan mainkan, fitur deteksi otomatis, konfigurasi otomatis, dan peningkatan firmware otomatis, dll.
Mendukung permintaan enkripsi pengadukan tiga
Mendukung permintaan mekanisme pelaporan DBA
Mendukung fungsi pemeliharaan konfigurasi jarak jauh OAM
Mendukung peningkatan dan unduhan jarak jauh
Mendukung deteksi status dan laporan kesalahan
Dukungan untuk mengonfigurasi mode kerja di port pengguna.
Mendukung enkripsi dan dekripsi data
Mendukung 802.1Q VLAN
Mendukung fungsi QinQ VLAN yang kaya dan pengintaian IGMP
Mendukung peraturan lalu lintas untuk memodifikasi prioritas terkait.
Mendukung indikasi LED
Dukungan untuk mengembalikan pengaturan pabrik
Mendukung pengaturan ulang jarak jauh dan reboot
Mendukung alarm pemadaman mati sekarat
Sepenuhnya kompatibilitas dengan OLT berdasarkan chipset ZTE.
Aplikasi:
Layanan data
Layanan suara
Layanan video
Layanan pemantauan
FTTH / FTTB / FTTO / FTTP
Spesifikasi Penampilan:
Technical items

Description

Optical property

Upstream PON interface

1 EPON interface, SC single-mode/single-fibre, symmetric 1.25 Gbps

Wavelength

Tx 1310nm, Rx 1490nm

Optical output power

-1~+4dBm

Receiving sensitivity

<-26dBm

Farthest distance

20km between OLT and ONU

Optical interface

SC/UPC connector

Downstream LAN interface

1*10/100/1000Mbps auto adaptive Ethernet interfaces, Full Duplex/Half Duplex, RJ45 connectors

Ethernet function

Support IEEE802.1Q VLAN

Support speed rate inhibition of broadcast packet at ONU

IEEE 802.3X flow control

Support 16 multicast addresses at each LAN port

Security strategy

Support AES-128,data encryption for both upstream and downstream

Support dynamic update of key

Management maintenance

Centralized OLT management based on OAM

WEB,CLI

Upgrade software remotely

Hardware information

Indicators

4 indicators, for status of power supply, PON port and 1 Giga-Ethernet port.

DC power supply

+12V, external AC-DC power adaptor

Chipset

ZTE chipset

Power switch

1

Power consumption

≤2.5W

Operating condition

Operating temp: -5~+55℃
Operating humidity:10~90%(non-condensed)

Storing condition

Storing temp: -30~+60℃
Storing humidity:10~90%(non-condensed)

Dimension

120mm*100mm*30mm(length*width*height)

Net weight

0.24Kg
Solusi: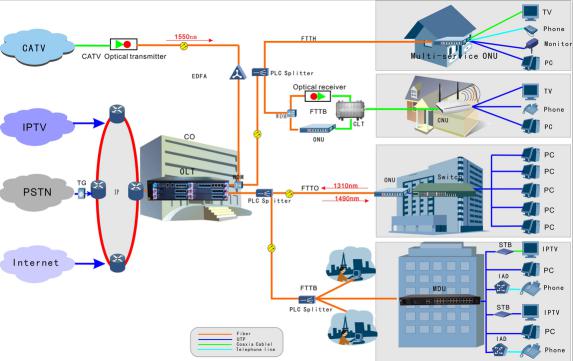 Kategori Produk : Jaringan Optik Pasif (Seri PON) > GPON ONU / OLT