Melihat:
Redundansi dering adalah teknologi redundansi berkecepatan tinggi Ethernet.

N-NET NT-MIN1042GF adalah switch Industrial Ring Ethernet , dilengkapi dengan 2 antarmuka SFP 1000base-X, port 4 10 / 100base-T (X).
Teknologi ini tidak hanya dapat memastikan bahwa jaringan dapat pulih dalam 300 milidetik ketika mengalami kegagalan (ketika digunakan di lebih dari 20 switch), tetapi juga dapat mengirim alarm melalui relai kesalahan, indikator atau SNMP ketika tautan cincin rusak.

Mendukung protokol cincin industri "NT-Ring", 2 port Gigabit secara efektif membuat redundansi cincin pemulihan mandiri Gigabit (waktu pemulihan mandiri <20 ms), kelas perlindungan, kelas industri empat sesuai dengan persyaratan EMC, jenis rel panduan atau dipasang di dinding, STP , Protokol RSTP.
Setelah jaringan dering terputus, indikator akan mengirimkan alarm pada sakelar yang terputus, mengaktifkan relai statusnya, dan mengumpan balik pesan kesalahan kepada pengguna melalui SNMP.

Switch POE Industri ini memenuhi persyaratan bidang industri untuk keandalan dan kepraktisan sistem jaringan.
Jaringan dering menggunakan dering berkelanjutan untuk menghubungkan setiap perangkat bersama-sama.

Desain perangkat keras yang andal sangat cocok untuk aplikasi komunikasi industri yang memerlukan pengoperasian terus menerus.
Ini dapat memastikan bahwa sinyal yang dikirim oleh satu perangkat dapat dilihat oleh semua perangkat lain di atas ring.

Fitur:
4x 10 / 100Base-TX (mendukung IEEE802.3af / standar), 2x1000Base-x SFP

Saklar Ethernet Industri

ini

Dapat mengelola setiap port POE melalui manajemen web, dan catu daya untuk

Setiap port POE hingga 15,4W / 30W

Sakelar industri yang dikelola poe ini Mendukung protokol paten N-NET [NT-Ring "(Waktu pemulihan <20 ms), STP RSTP,

MSTP, Ethernet berlebihan.

Switch Industri Ini Mendukung SNMPv3, IEEE802.1X, HTTPS dan SSH, meningkatkan keamanan ne2xrk

Industrial Fiber Switch ini

mendukung metode Managed WEB, CLI, Telnet / konsol serial, utilitas Windows

Dan SNMP, IGMP Snooping, dan GMRP menyaring lalu lintas multicast

4KV EFT protection dan 6KV ESD protection

MTBF di atas 100.000 jam

Catu daya ganda (DC46V ~ DC54V) untuk redundansi

Desain pendinginan shell industri aluminium penuh, tanpa kipas

Thermal via, perlindungan IP40

Suhu kerja -40 ~ + 80ºC

Dukungan din-rail / desktop / dinding terpasang

Tingkat proteksi petir: antarmuka daya mengadopsi tingkat

4x dari desain proteksi petir
Spesifikasi
technical parameter

Standard:IEEE802.3,IEEE802.3u, IEEE802.3ab ,IEEE802.3x, IEEE802.1D(STP),

IEEE802.1w(RSTP),IEEE802.1Q(Vlan Tagging),IEEE802.1p(QoS)

Protocol:NT-Ring.IGMP v1/v2.GVRP.SNMP v1/v2/v3 .DHCP Client.TFTP.SMTP.RMON.LLDP.HTTP.SSH.Telnet.SNTP Server/Client,.

Flow control:IEEE802.3x(Flow control).Back Pressure

function

Switch function:NT-Ring.POE+.RSTP.SNMP.QOS.802.1Q VLAN. Port Trunking.Static multicast filtering.Bandwidth management.Broadcast storm.Port traffic statistics.Online upgrade.Upload and download profiles,User name login system, etc.

NT-Ring: Support Single, couple, Chain, Dual homing etc. ring network structure.

Interface

Fast port:1X4 10Base-T/100Base-TX adaptive,RJ45 port.

Gigabit port:1X2 1000Base-X SFP fiber port.

Rs232 port number:1 RS-232 Control port, baud rate:57600bps

transmission distance

RJ45:100M(Standard CAT5/CAT5e cable)

Multimode fiber:1310nm,2KM

single mode fiber:1310nm,20/40/60Km

1550nm,20/40/60/80/100/120Km

Switch attribute

Fast forwarding speed:0.1488Mpps

Gigabit forwarding speed:1.488Mpps

Vlan number:256 VLan ID:1~4096 Multicast group number:256

transmission mode:Store and forward.

System switching bandwidth:4.8G

MAC address table:8K

Buffer:1Mbit Frame buffer.

Standard certification

EMI:

FCC CFR47 Part 15,EN55022/CISPR22,Class A

EMS:

IEC61000-4-2(ESD) ±8kV(contact), ±15kV(air)

IEC61000-4-3(RS) 10V/m(80MHz~2GHz)

IEC61000-4-4(EFT) Power Port: ±4kV; Data Port:±2kV

IEC61000-4-5(Surge) Power Port: ±2kV/DM, ±4kV/CM; Data Port:±2kV

IEC61000-4-6(CS) 3V(10kHz~150kHz);10V(150kHz~80MHz)

IEC61000-4-16(common mode conduction) 30V(cont.),300V(1s)

Mechanics:

IEC60068-2-6, IEC60068-2-27, IEC60068-2-32

Industry:

IEC61000-6-2

Railway:

EN50155,EN50121-4

Traffic control:

NEMA TS-2

LED indicator light

System indicator:SYS

Interface indicator:The green light is 100M,Off is 10M. Yellow light is light and blink for port link-up status,Transmitting and receiving data,Off is link-down status.

Power Supply

Input voltage:18~36VDC

Input mode:Plug in type 6 core 5.08mm spacing terminal

Support redundancy function for dual power supply

work environment

Operating temperature range:-40~75℃

Storage temperature range:-40~85℃

Outer case:IP40 protection grade, corrugated high strength metal case

Installation method: guide rail type.
Gambar produk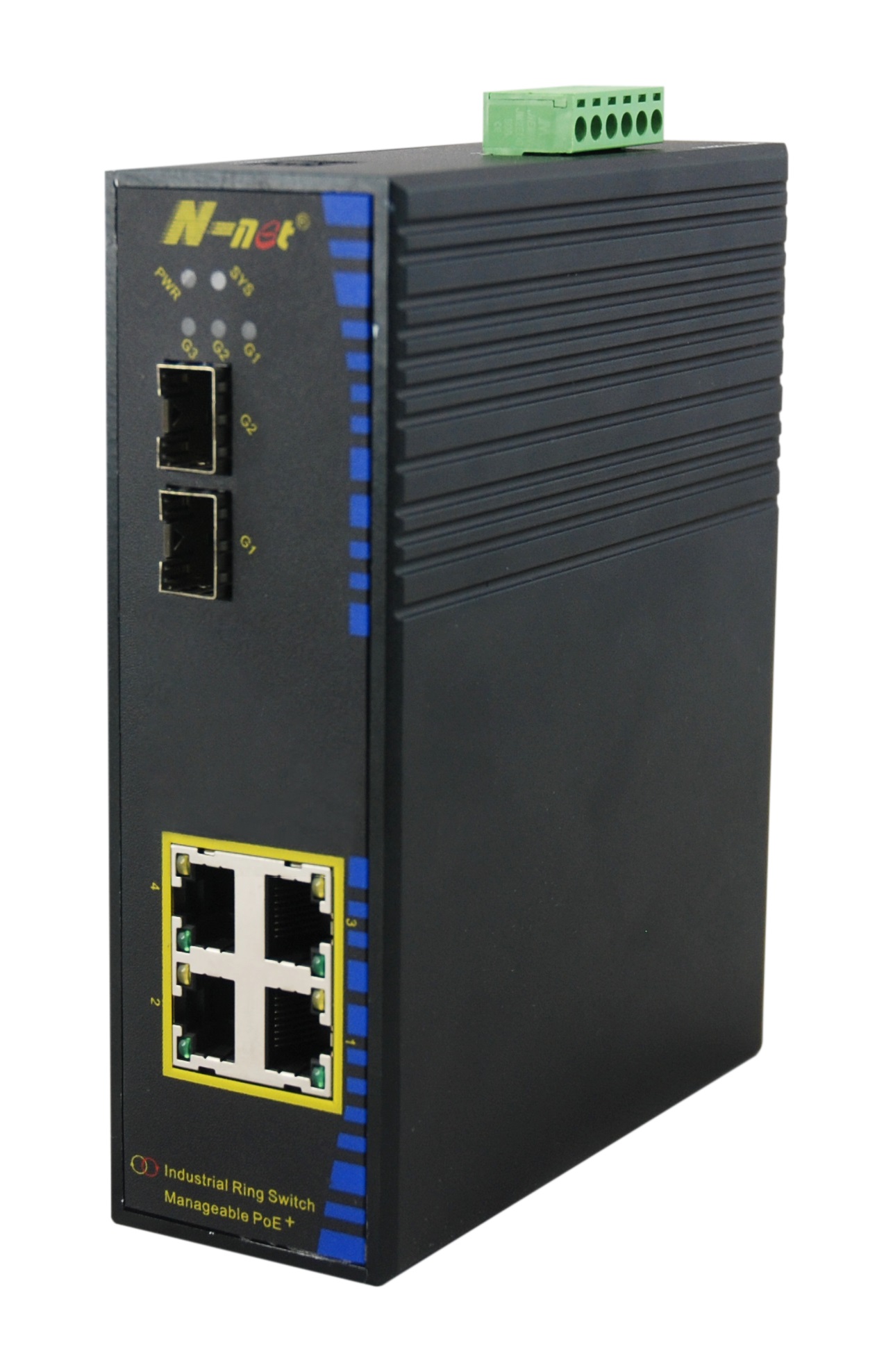 Kategori Produk : Switch Ethernet Industri > Industrial Ring Ethernet Switch